On the Fourth METU Engineering Day this year,  like every year, our undergraduate students presented their research and developed their creativity. All of the engineering departments offered the opportunity to meet with students and faculty members. We would like to thank all students and academicians and everyone else who participated in this event.
2019 ENGINEERING DAY COMPETITION RESULTS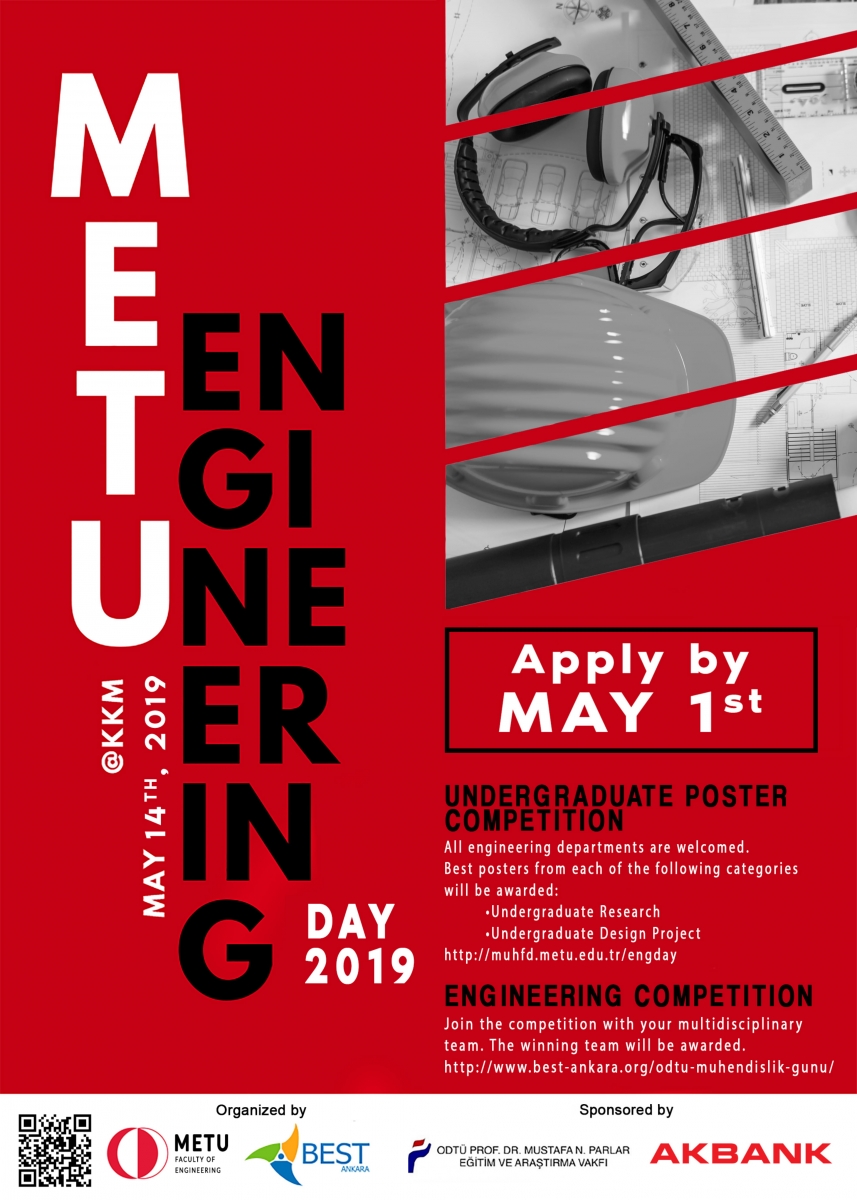 The Winners of the Engineering Competition: 

First Place: "Rocket Team" 

Members: Deniz Tür, Sefa Tak, Doğa Yahşi, Deniz Cansu Oğul

Second Team: "Fantastic Four" 

Members: Nika Rasoolzadeh, Yasin Mısır,  Hatice Deniz Özdemir, Mertcan Bulut

Third Team: "Trophic Thunder" 

Members: Hasret Sultan Ünal, Ozan Karakurt, Kadircan Becek, Ece Bingöl

 

Undergraduate Research*

1. Zeynep Ayhan, Murat Arslan, Asaf Behzat Şahin, Electrical and Electronic Engineering   "Single Pole Single Throw RF MEMS Switch for 5G Applications"        Advisor: Prof. Dr. Barış Bayram

 2. Tansu Demerci, Goktug Cihan Ozmen, Asaf BLaser Vibrometer Analysis of a Defective MEMS Microphone Chip"      Advisor: Prof. Dr. Barış Bayram

 2. Ceren Kocaman, Aslı Karausta Chemical Engineering "Liquid Crystal Templates Allow Three Dimensional Shaping of Microparticles"                           Advisor: Dr. Öğr. Üyesi Emre Büküşoğlu

*The second prize was awarded to two teams.


Undergraduate Design*

1. Nasra Sonat Akşit, Serkan Alantor, Ozan Şahin, Utku Can Tuğutlu, Mert Ulusel, Özgün Yurdakul Metallurgical and Materials Engineering "Under-Bump Metallization (UBM) Layer  for Quantum Well Infrared Photodetectors"                       Advisor: Assist. Prof. Dr. Simge Çınar

2. Uğurcan Kartal, Bertuğhan Çavuş, Hümeyra Beyan, Ata Ürün, Yiğitcan Ekici, Semih Köksal, Aykut Çardak, Cihan Alper Çelikay  Mechanical Engineering "Design of Portable Launch System for Unmanned Aerial Vehicles"                                  Advisor: Prof. Dr. Erhan İlhan Konukseven, Prof. Dr. Ender Ciğeroğlu, Assist. Prof. Gökhan Özgen, Research Assitant Gamze Karataş

3. Burak Bişkin, Cansu Doğanay, Erencan Dural, Zeynep Beste Güran Mechanical Engineering  "Automatic Pet Feeder iPet" 

3. Berkant Bayraktar, Berker Acır, Gökhan Karabulut, İlker Ayçiçek, Yunus Emre Saçma Computer Engineering "Mini Self-Driving Car"                                            Advisor: Assist. Prof. Dr. Selim Temizer                           

*The third prize was awarded to two teams.